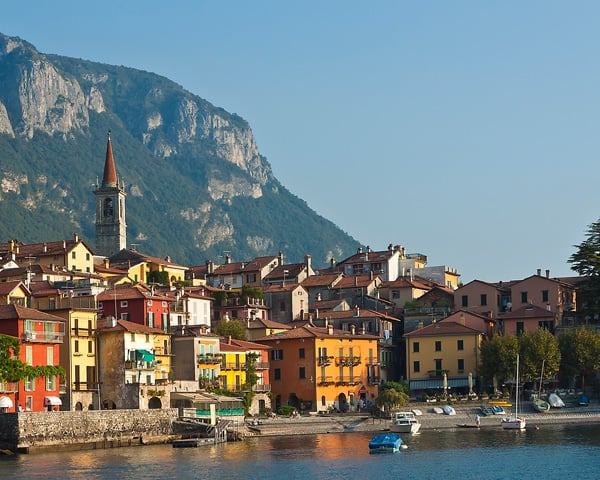 This idyllic municipality on Lake Como is in the Lombardy region of Northern Italy. It is about 60 km north of Milan and is a wonderful place to relax, enjoy the scenery, and sample the delicious food and wine. You can actually see the Swiss Alps, because it is so close to the border.
Varenna is also home to Italy's shortest river, Fiumelatte, which is 820 feet long. The name comes from fiume (Italian for "river") and latte ("milk") because of the milky white color of its water.
Lake Como is one of the deepest lakes in Europe with the bottom more than 656 feet below sea level. It is widely regarded as one of the most beautiful lakes in Europe and has been a popular retreat for aristocrats and wealthy people since Roman times. Transportation between towns is made very easy by frequent boat schedules. Allow plenty of time for visiting villas that are open to the public.
Lake Como is still a very popular tourist attraction – and it is not surprising that many famous people live or have lived in the area – Madonna, George Clooney, Gianni Versace, Sylvester Stallone, and Richard Branson, to name a few. We didn't meet up with any of these famous people, but it was not for lack of looking