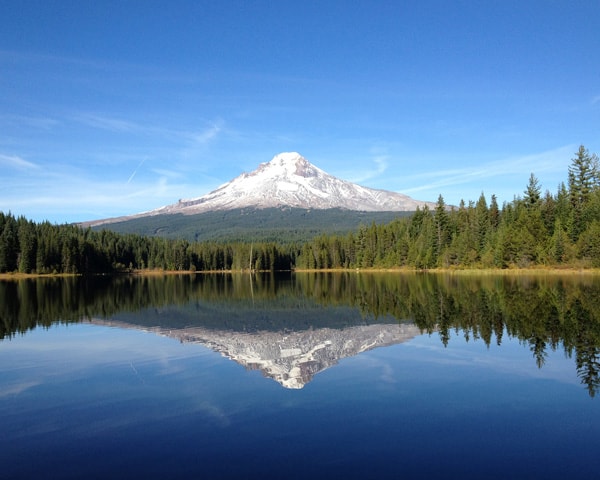 Fall in the Pacific Northwest can offer incredible scenic opportunities. In October last year we drove around the base of Mt. Hood to Trillium Lake and I was able to capture this image with my iPhone 4S.
Trillium Lake (man made) is located about seven miles south-southwest of Mt. Hood. It is formed by a dam at the headwaters of Mud Creek which is a tributary to the Salmon River. It was created in 1960 by the state Department of Fish and Wildlife.
The area was part of Barlow Road which was a segment of the Oregon Trail. Trillium is a flower particularly noticeable here.
Mt. Hood, in the Cascade Range, is located about 50 miles east-southeast of Portland and is Oregon's highest mountain at 11,249 feet and the peak is home to twelve glaciers. While Mt. Hood is considered potentially active, an eruption is unlikely, so is informally considered dormant.
It is a popular hiking destination, as well as skiing (sometimes into July) and climbing. More than 130 people have died in climbing-related accidents since records have been kept. It seems that someone always loses their life during the winter months on the mountain.
We travel here a lot and I have conducted of tours in this Pacific Northwest area. I call this the Oregon Bounty Tour and offer this program twice per year.