You are about to enter a forested wonderland where everything is part of a whole – every plant, animal, tree, fish, bird, bug, and slug has its place…so, says Clackamas County and Bureau of Land Management Sandy Ridge Trail System.
The scent of the forest draws me every time I am in the Pacific Northwest. And, this little gem,
Barlow Wayside Park
that once used to be the Barlow Road, the last segment on the Oregon Trail, is my new favorite outdoor activity destination.
Hiking
on the Little Joe Loop is a very easy and enjoyable trail to navigate as are the Falls Loop and Northern Loop trails. While this park is a short way from Highway 26 on the way to Mt. Hood, it is easy to find and is well marked by road signs.
Here's what we saw on our riparian adventure…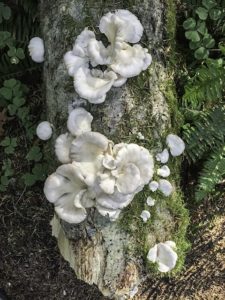 Mushrooms are the surface "fruit" that carry spores for propagation. Some mushrooms grow on organic matter (dead trees), while others in the soil are part of a larger, unseen underground fungus organism.
Nurse logs are fallen trees that become a resource of nutrient rich organic matter, water, and insects that vegetation and animals depend on.
Source: Clackamas County
As I am not a mushroom expert, I don't know if these are edible. If they are, one couldn't possibly go hungry in this forest.