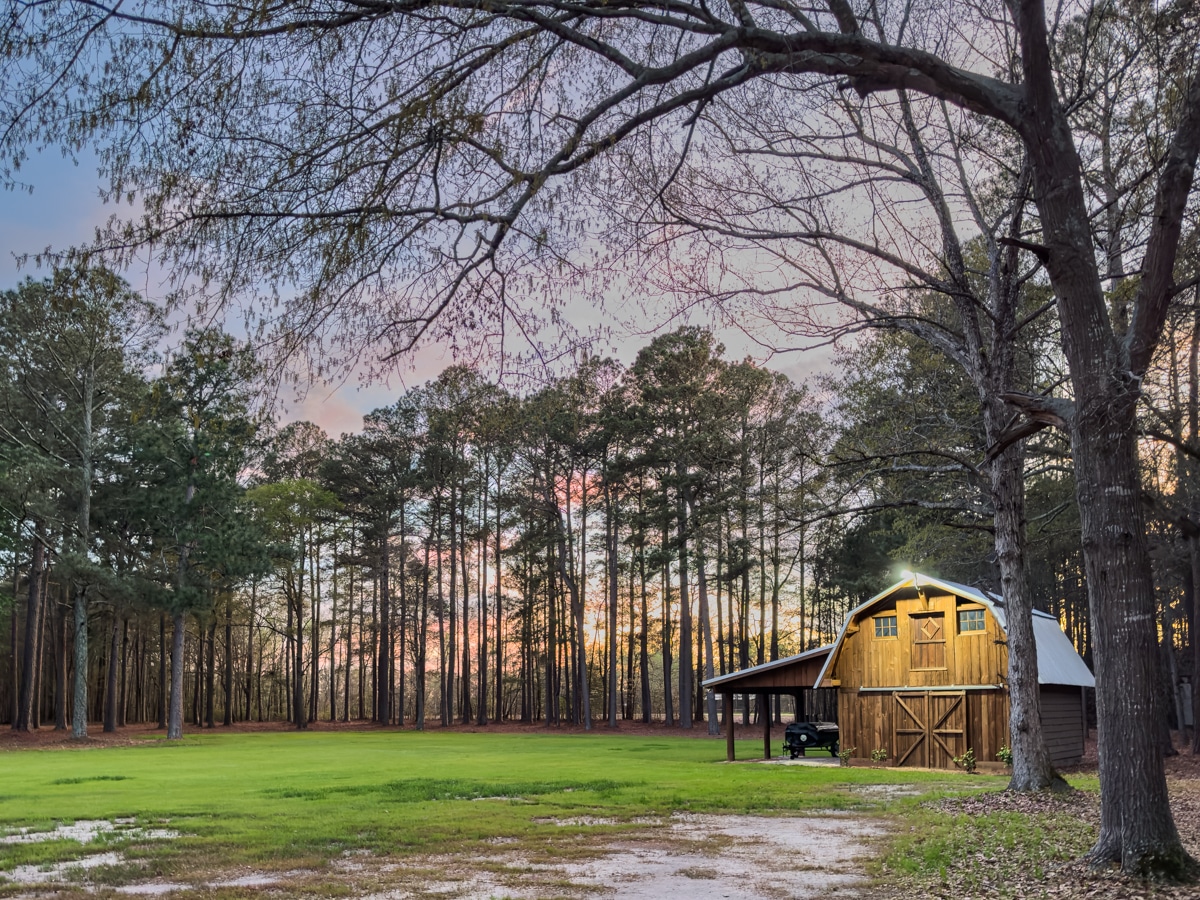 When it comes to planning a vacation or retreat, most people tend to opt for the usual hotel or resort experience. However, whether you're seeking a romantic getaway for two or a cozy solo retreat like me, the Baccer Barn in Benson, North Carolina, promises a unique experience and an unusual place to stay. You'll leave with memories of this rustic gem that last a lifetime.
Tucked away in the heart of Benson, the Baccer Barn is a one-of-a-kind accommodation that will transport you to an era of tobacco farming and moonshine. Jeremy Norris, a 5th-generation moonshiner turned distiller, and his wife, Shelly, own and manage the Baccer Barn.
The Johnston County Visitors Bureau and Jeremy and Shelly Norris hosted me, but all opinions are my own.
How to Get to Benson
The Baccer Barn is close to I-40 and I-95 near historic Downtown Benson, North Carolina, almost in the middle of the state. It's 37 miles south of Raleigh.
Charlotte Douglas International Airport is a three-hour drive west of Benson. That's where I began and ended my road trip around North Carolina.
About Baccer Barn
The brick barn was built in the 1930s and used as a tobacco barn to cure tobacco. The exterior is constructed from tiles, which my host said retains heat well. A unique feature of the interior is the use of wooden slats on which the tobacco dried. The aged slats were used to construct the hand railing going to the upstairs quarters.
This rustic gem has one king bedroom upstairs with a giant ROKU TV, a full bathroom downstairs, a kitchenette with a refrigerator and other appliances, a dining table for two tucked under the stairs, a leather couch, a leather recliner, and a wall-mounted television over the door. All of this is within 512 square feet.
The wrap-around porch has a picnic table, two Adirondack chairs, and a delightful porch swing. I spent a lot of time enjoying the landscape and contemplating my good fortune on that porch swing.
The Baccer Barn is located at Broadslab Distillery and The Barn at Broadslab, where they host weddings and other events in addition to distilling spirits. This rustic gem is appealing and adds to the ambiance of the experience.
On the other side of the tree line bordering the driveway, a still is set up in the woods for guests to see what it was like during the moonshining days.
Read more about moonshine and the family history here.
Things To Do in JoCo
While staying at the Baccer Barn, you'll have the opportunity to reconnect with nature in a way you never thought possible. Why? Because the quiet of the country and surrounding farmland soothes the soul and mind.
Spend your days exploring Johnston County, or relax on the swing on the front porch as the sun sets.
Benson offers many activities and attractions to keep you entertained during your stay. Stroll through the charming downtown area, where you'll find quaint shops, local eateries, and friendly faces. Visit the Benson Museum of Local History to learn about the town's rich heritage or drive through the picturesque countryside.
Why You Should Visit Smithfield
On a short drive to neighboring Smithfield, visit the Ava Gardner Museum. Home of the beloved daughter, Ava Gardner, one of the greatest movie stars of all time, is memorialized at this museum. Learn more about my first-hand experience here.
Next door, be sure to visit the Johnston County Heritage Museum. The museum brought to life the region's history, slavery, tobacco farming, moonshine, and bootlegging. Learn more here.
While you're out in the countryside, stop by Smith's Nursery. Smith's is a family-owned and operated farm. You can pick strawberries and blueberries in the spring and summer and pumpkins in the fall. They keep the roadside produce market stocked with local fresh produce and offer fresh ice cream and other dairy products. A stop at their coffee bar is a welcome treat before your shopping and picking begins. I had to buy a box of glistening crimson cherry tomatoes, and I couldn't wait to get to the car to eat them. I devoured a handful of them at the check-out counter.
Why You Should Visit Selma
Selma is a quaint, historic town (dating back to 1873) with engaging murals, vintage variety, and antiques. This historic train station is worth a visit and is served by Amtrak.
In Selma, I took the opportunity to eat at Old North State Food Hall. It boasts ten locally-owned food vendors who serve made-to-order cuisine. Because I love boba tea, I was delighted to find a vendor in the center of the Food Hall.
Hinnant Vineyards, a North Carolina tradition since 1972 (the year I graduated from high school), tends over 100 acres of grapevines. It is the largest muscadine vineyard in North Carolina. You can tour and then taste their double-winning Electric Pelican.
When you stay at Baccer Barn, you are within easy walking distance of Broadslab Distillery. It's a JoCo Beer, Wine, & Shine Trail stop.
Out in the JoCo Countryside
The Bentonville Battlefield is a great place to visit if you enjoy history. You can tour the site of the last major battle of the Civil War.
Howell Woods Environmental Learning Center is a natural resource where you can hike, bird watch, hunt, fish, camp, and canoe. It's a bit of a drive from town, but it's an excellent place for outdoor recreation. I met a student there and taught an engaging photography lesson.
Where to Eat in Benson
While there, I met my host from the Johnston County Visitors Bureau, Ashby, and enjoyed lunch at Cornerstone Café. I had their featured items–Corn Pudding and Turkey and Avocado Sandwich on marble rye bread. It was a delightful time with a new friend who introduced me to the region. I enjoyed the "Café Life." See more with their link above.
Across the railroad tracks is JPs Gluten Free Bakery, famous throughout the region. Because it was near the Easter holiday, JPs made traditional Hot Cross Buns, and I tasted one. It was hot from the oven and tasted heavenly. I also got a gluten-free chocolate-swirled Challah Bread that I ate for several days. It was moist, flavorful, and not too sweet.
While on the Red Hot Dog Trail (red hot dogs are really for kids), I experienced BBQ like no other. Redneck BBQ Lab knows how to create mouthwatering meats and sides. And, ya gotta love their motto– "God, Country, Family, BBQ!" Learn more here. The portions of BBQ and sides were large, so I took my leftovers back to the rustic gem of the Baccer Barn to enjoy another day.
The big servings of authentic Italian cuisine at Anthony's La Piazza in Downtown Benson seemed even more enormous. One can't just buy a glass of wine at a restaurant in Benson. I had to spend a certain amount of $$, and they GAVE me a glass of wine. It was an interesting situation, but how can you eat great Italian food without a glass of red wine?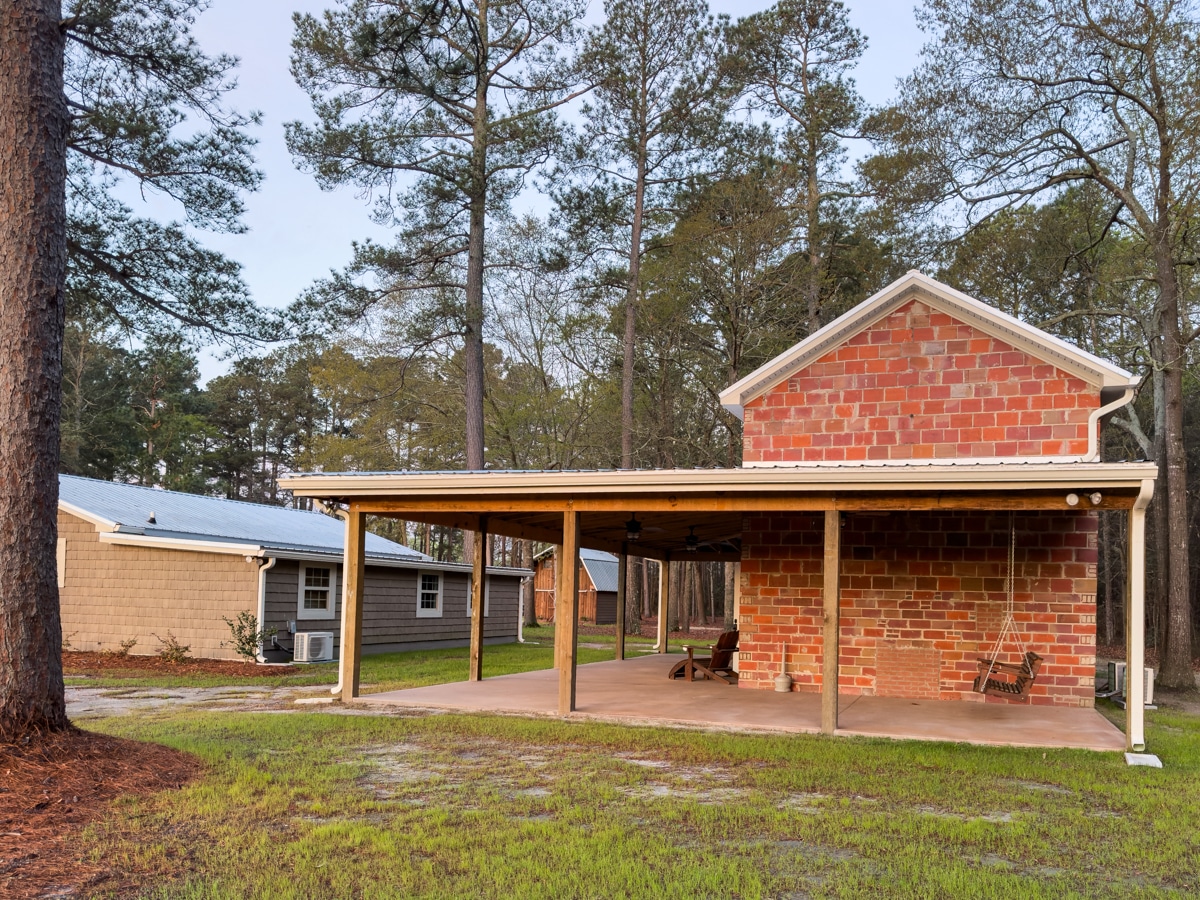 Final Thoughts
Benson, in Johnston County, North Carolina, offers an unusual place to stay (a rustic gem that is up-to-date with amenities and atmosphere) that will give you a taste of farm life with a long and exciting history.