Fun Things To Do on the SS Badger and in Her Port Cities
If you are looking for fun things to do on the SS Badger, I'll give you ten fun things on the car ferry, ten fun things in Manitowoc, Wisconsin, and ten fun things in Ludington, Michigan–the port cities served by the Historic SS Badger.
It's worth taking the Historic SS Badger across Lake Michigan because it is the last coal-fired passenger steamship in the United States. She was officially designated a National Historic Landmark by the Department of the Interior in 2016, our nation's highest historic honor. She's celebrating her 70th Anniversary this year, too!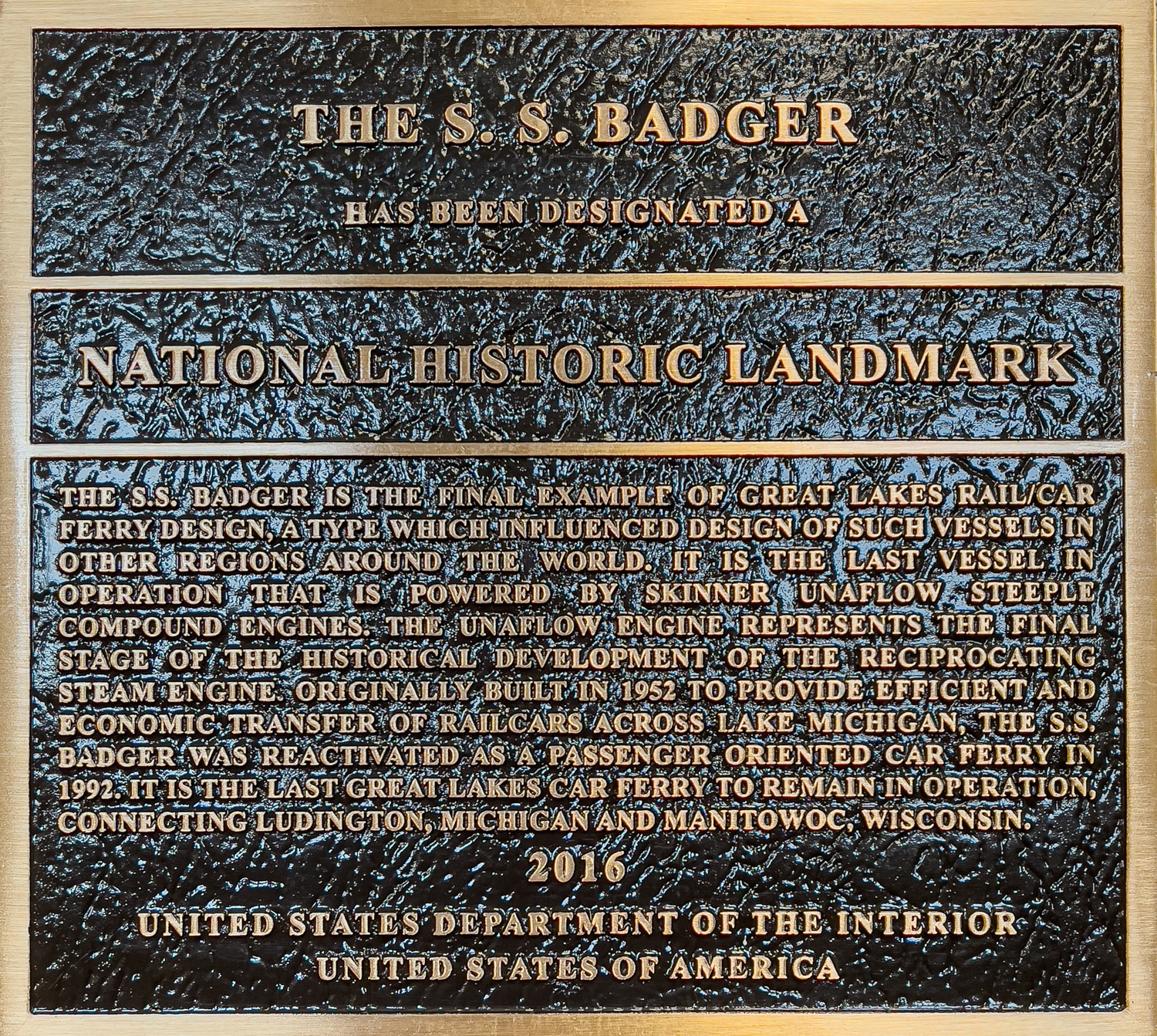 SS Badger Facts
Launched in 1953
410 feet long
Seven stories tall
Accommodates 600 passengers
Accommodates 180 vehicles–Rvs, motorcycles, motor coaches, and commercial trucks
Extremely unique because this NHL moves
Originally designed to transport railroad cars
Re-born in 1992
Celebrating 70th anniversary this year – 2023
When creating my itinerary to attend my 50-year high school class reunion in Michigan in the fall of 2022, I chose the efficient and convenient way to cross Lake Michigan. Rather than drive through Milwaukee, Chicago, and Grand Rapids, I took the ferry with my vehicle from Manitowoc, Wisconsin, to Ludington, Michigan. It saved a lot of time because I avoided traffic on the highways. I was able to relax and enjoy the sunshine and the amenities onboard. In addition, I supported sustainable travel.
The day I crossed, the waters were calm, and the sun shone.
The SS Badger car ferry is handicapped accessible, with assistance boarding and disembarking; staterooms and restrooms are accessible, and you can use a wheelchair free of charge while on the ferry.
Be prepared for the horn blast upon departure and arrival. It's heart-stopping!
SS Badger Ferry Schedule
The SS Badger ride across Lake Michigan takes four hours as it crosses in a straight line on Highway 10 (look on the map, you'll see it) between Manitowoc, Wisconsin, and Ludington, Michigan.
During the spring (May 18 to June 8, 2023) and fall (September 5 to October 9, 2023), the SS Badger car ferry makes one daily trip across Lake Michigan. In the summer months, two round-trip crossings occur daily. The car ferry departs Ludington at 9:00 am and arrives at Manitowoc at 1:00 pm. The afternoon return trip leaves Manitowoc at 2:00 pm and arrives in Ludington at 6:00 pm.
Pro Tip: Ludington is in the Eastern Time Zone, and Manitowoc is in the Central Time Zone.
Pro Tip: Reservations for your car ferry ride are highly recommended. The SS Badger cannot guarantee you a spot without a paid reservation.
Pro Tip: Arrive one hour before departure. An early arrival allows for ticketing (unless you purchase your ticket online) and boarding. The SS Badger uses an efficient staff system of loading and unloading vehicles.
---
Fun Things To Do in The Port Cities
No matter which port you depart from, both towns have exciting, educational, and fun things to do for families, couples, and singles. I was a solo female traveler on this road trip, and here's what I recommend.
10 Fun Things To Do In Manitowoc, Wisconsin
An essential port on the Wisconsin side of Lake Michigan, Manitowoc offers the best beach on the Wisconsin side, historic buildings, and great places to eat. Here's a list of ten fun things I did when I was there in the fall.
Tour Wisconsin Maritime Museum
The Wisconsin Maritime Museum is a leader in preserving the history of the Great Lakes region and Wisconsin. A museum tour is the best preparation for your visit to the USS Cobia submarine, just outside the back door on the river. Spend hours with hands-on learning about shipbuilders, sailors, and submariners who made history with their extensive artifacts and photograph collections.
Tour USS Cobia
The USS Cobia, the most authentic WWII submarine in the world today, is open for tours and overnight visits. The submarine is restored to its 1945 configuration.
Dining
Dine at Water's Edge Restaurant inside The Lighthouse Inn
A large dining room with picture windows that face the beach and Lake Michigan at the Water's Edge Restaurant makes this American dining experience a must-do. There isn't a bad seat in the house.
The Great Lakes Parmesan Baked Whitefish dinner is Water's Edge's signature dish. It was traditional and tasty.
Bike, skate, or walk Mariners Trail
The six-mile Mariners Trail has several access points with convenient parking, telescopes, and benches to enjoy the most extended, continuous, scenic view of Lake Michigan in Wisconsin.
Mariners Trail connects for about a mile to Rawley Point Recreation Trail in downtown Two Rivers.
Shopping
Shop historic Downtown Manitowoc.
Schroeder's is one of the country's oldest independent department stores in downtown Manitowoc. This specialty shop has been family owned since 1891. Shops carrying pottery and art tiles crafted by area artists, yarns from the local alpaca farm, artisan cheese, local wines, and homemade chocolates are a way of life. You can share it, too.
Rogers Street Fishing Village
Located on the East Twin River, Rogers Street Historic Fishing Village and Great Lakes Coast Guard Museum celebrate 180+ years of fishing heritage.
Climb the 1886 lighthouse, view a fisherman's house, and more in the museum.
Walk the pier and Manitowoc Breakwater Lighthouse.
Initially built in 1895, the Manitowoc Breakwater Light was rebuilt in 1918 and automated in 1971. While you can walk out and around the light, it's not open to the public.
Tour
Tour West of the Lake Gardens
While I missed the opportunity to visit the Gardens when I was in town, this is one of the most important destinations in Manitowoc.
John and Ruth West purchased the six-acre property where the Gardens exist today, originally a streetcar right of way.
The house was built in the style of Walter Gropius and Frank Lloyd Wright, earning the moniker "Shoebox Estate" from the locals.
Hopelessly addicted to gardening, Mrs. West raised 30,000 tulips by 1950, followed by geraniums and fibrous begonias. By 1967, all the tulips were gone, and perennials, roses, and dahlias dominated the garden. In the 1970s and 1980s, a Japanese garden was added with intricate designs and accentuated with pots of succulents and cacti. This influence remains today.
Tour Hamilton Wood Type
Hamilton Manufacturing is located in neighboring Two Rivers and was America's longest-lasting wood type maker. Wood-type art and old machines entertained me as I watched this working museum staff teach Ph.D. students from Rome the art of wood type.
Hike the Ice Age Trail at Point Beach
The 1,200-mile National Scenic Trail in Wisconsin is called Ice Age Trail. I joined it at the Point Beach segment that runs along the coast of Lake Michigan.
Pro Tip: When you visit Rawley Point Lighthouse (outside only), access to the Ice Age Trail is near the midpoint of the dunes.
---
10 Fun Things to Do on the SS Badger
Play Badger Bingo
Badger Bingo are regular bingo games. Each game includes classic prizes of SS Badger memorabilia. New in 2023, the winner of the last game played at the end of each crossing receives a special commemorative dinner plate. The plates sell in the gift shop for $25.
Boatique shopping
Shopping for souvenirs and memorabilia is a great pastime.
Staterooms
Staterooms are available at an extra fee and can be reserved when making reservations.
Free movies
You can watch free movies available in the theater with theater seating.
Video entertainment system on your device
Use the Wi-Fi to watch movies and satellite TV.
Lounging inside and out
As I did, plenty of lounge chairs are on the deck if you prefer to have the lake breeze on your face.
Open deck for walking and fresh air
Get your 10,000 steps in as you walk around on the wide-open deck.
Board games
Board games are suitable activities for the entire family.
Museum
Learn about maritime history in the onboard museum.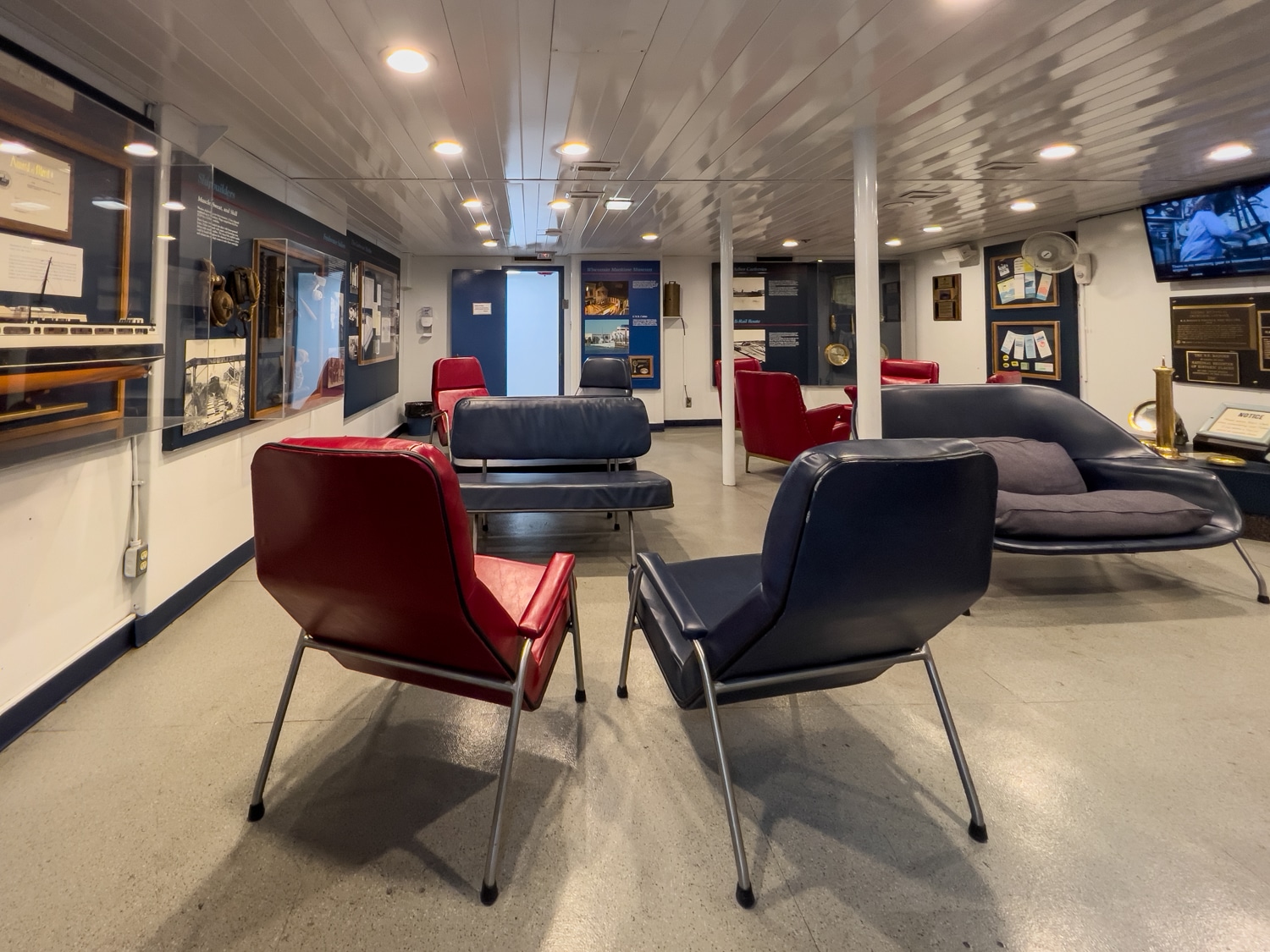 Dining on SS Badger
The Galley, Full-Service Bar, and Breakfast Buffet feature local Wisconsin and Michigan ingredients.
---
10 Fun Things To Do In Ludington, Michigan
When the SS Badger Car Ferry docks in Ludington, you can walk downtown to experience the quintessential "Up North" Michigan. I grew up in mid-Michigan, and going Up North has a special meaning and brings back fond memories.
This year, Ludington is celebrating the Sesquicentennial–its 150th birthday. Special events begin this spring (April 2023) and continue through the year. Here is the link to keep up to date with the celebrations.
Love Ludington Weekend, June 9-11, includes a street party, half marathon, historic home tour, SS Badger 70th Anniversary Birthday Bash, and historic B&B Walking tours.
Ludington Sesquicentennial Concert is at Waterfront Park on June 14. Be sure to check the website for the latest schedule.
Beaches
Lake Michigan beaches
With 28 miles of sugar-sand shoreline, Ludington claims some of the best beaches in Michigan.
Stearns Park Beach's free city beach is within walking distance from the SS Badger dock and downtown. Popular features include:
Walkable pier to the historic Ludington North Breakwater Light
Picnic tables
Grills
Shuffleboard courts
Mini-golf course
Skate park
Sand volleyball courts
Food concession
Boat rentals
Bathhouse
Two lighthouses
Ludington North Breakwater Lighthouse is at the end of the pier at Stearns Park Beach. Big Sable Point Lighthouse is located in Ludington State Park and is open for tours and tower climbing in the summer.
Dining
Dine and shop downtown.
The quaint downtown, at the intersection of James Street and Ludington Avenue, offers locally-owned restaurants and specialty shops for browsing and dining pleasure.
Legacy Plaza is an urban green space that is a significant destination. It features picnic tables, a gas fireplace, a large, covered pavilion, and a performance stage for live music.
The Ludington Outdoor Social District hosts visitors enjoying adult beverages from participating businesses and restaurants.
Sculpture Trail
Waterfront Sculpture Park is 5.3 acres adjacent to the marina, perfect for picnicking. It has two large playscapes and a sculpture trail that depict the history of Ludington.
Sunset
If you arrive at the end of the day in Ludington, the sunset time on Lake Michigan is perfect. Enjoy the sunset at Waterfront Park or Stearns Park Beach. During the summer, the Sunset Beach Bonfire on the fourth Thursday is complete with live music. It's open to the community.
History
Port of Ludington Maritime Museum
A short walk from the SS Badger dock, the Port of Ludington Maritime Museum is housed in the former 1934 US Coast Guard Station.
Bike or walk Maritime Heritage Trail on the waterfront
More than 40 miles of trails in Ludington offer paved and mountain biking trails for hiking and biking—rent bicycles from two shops in Ludington.
Festivals or events during the sailing season
Artisan Market, Farmer's Market, Summer Live Concert Series, Movies in the Park, and Sunset Beach Bonfires are some fun things to do. See the Schedule of Events for all the latest updates to events during the year.
Tour
Tour the craft beer scene.
The craft beer scene is growing. Less than half a mile from the SS Badger dock, three popular breweries offer meals with their tastings. Learn more here.
Charter a fishing boat
A top fishing port on Lake Michigan, Ludington has more fishing charters, with more salmon and trout caught each year than any other port in Michigan. Select restaurants participate in the Catch & Cook program and will prepare and cook your catch for dinner.
---
Final Thoughts
No matter which port city you choose for departure on your SS Badger car ferry trip, you will find many fun things to do at both ends and in the middle.