Multnomah Falls is the iconic, stunning waterfall located 30 miles east and 30 minutes from Portland, Oregon. It's a must-see destination when you are visiting the Pacific Northwest. The falls have been photographed in all four seasons and countless ways. I've visited many times and always enjoy bringing visitors and guests to this awe-inspiring sight.
Because Multnomah Falls is so popular and Historic Columbia River Highway is a narrow, winding road, there is now a shuttle bus and timed entrance to the area during the busy summer months. Learn more below.
Spring 2022 Visit
On May 20, we left our house at the foot of Mt. Hood for a one-hour drive at 5 am, heading east from Troutdale on Historic Columbia River Highway, Oregon US 30. By doing so, we joyously watched the sunrise at Portland Women's Forum State Scenic Viewpoint.
We experienced the chilly and biting wind at Vista House,
a rest stop with a historic eight-sided building and scenic view. We were too early for it to be open. Still, we walked around the perimeter, captured stunning images, and enjoyed the spectacular view of the Columbia River in the morning sun.
The early home departure placed us at Latourell Falls, a spectacular waterfall experience west of Multnomah Falls before more than a handful of people descended on it. At these falls, you can get up close and get drenched in the mist and backsplash at the base.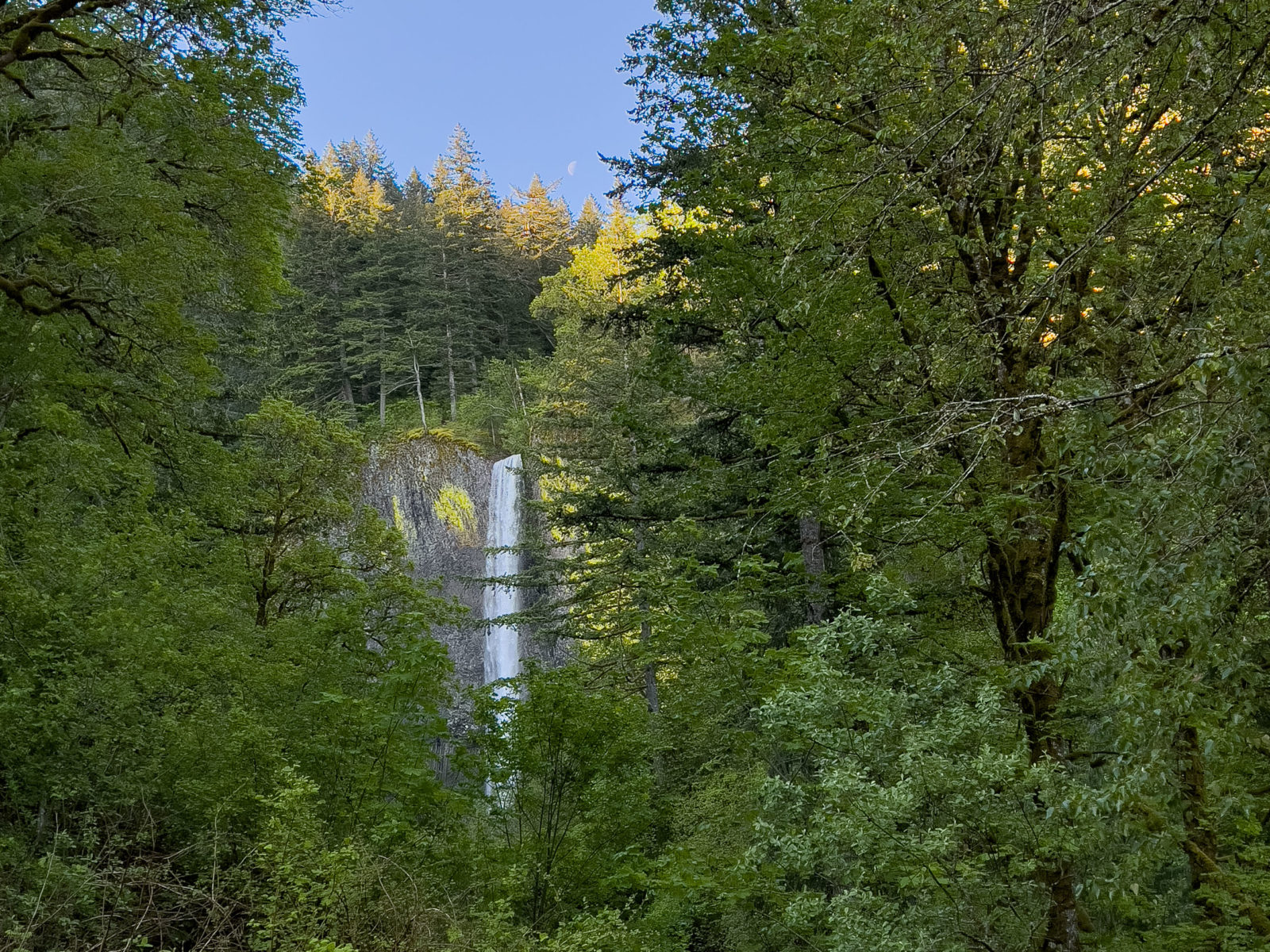 Pro Tip: There is a pit toilet for visitors near the parking lot. It's convenient if you are desperate. It hadn't been cleaned in a while and was quite distasteful.
Waterfalls Along the Route
Bridal Veil and Wahkeena Falls are west of Multnomah Falls. Horsetail Falls and the Oneonta Falls Trail are east of Multnomah Falls. All photo-op-worthy stops.
Early Morning at the Falls
Our 8:00 am arrival in the parking lot at Multnomah Falls garnered us one of the closest parking places to the entrance. We were delighted and thanked the Falls gods for arranging this for us.
By 9:00 am, the place was overrun with visitors and photographers jockeying for space, trying to capture that quintessential selfie in front of the falls. I will admit–I did the same.
Visit Multnomah Falls Tips
After many visits, here are my recommendations to help you prepare for your visit to Multnomah Falls.
#1. Go very early in the morning–very early. See below for the current visit requirements and the links to check before you go.
What To Wear
#2. Bring a head covering–a hat or jacket with a hood, something to cover your ears and neck. See also #6.
#3. Depending on the time of year, consider bringing a pair of gloves–needed in winter, spring, and fall. You'll be in the shade in the morning as the sun is on the left and back side of the falls.
#4. Good walking shoes or hiking boots, particularly if you hike to the top of the falls. In winter, the hike up the hill can be icy and treacherous.
#5. Dress in layers because it was warm at the base of the falls, but above, it was cold. Remember that you're in the mist from the falls and getting wet. We saw young people in skirts or dresses. They had to be cold.
#6. Bring a waterproof jacket with a hood or rain poncho. Exposed to the mist, your clothes will be saturated quickly, and you will feel the chill.
What To Bring
#7. Bring microfiber cloths to wipe the mist from eyeglasses and cameras. A waterproof covering for your camera is essential–even if it is a plastic bag. And don't forget your glasses case. I've seen more wet glasses left on the ledge of Benson Bridge because so many water droplets rendered the glasses useless.
Accessing Multnomah Falls
#8. Walking sticks would be helpful to ascend to Benson Bridge because that upward journey on the hill is steep. It's worth getting up to the bridge because the perspective of looking down and then looking up is spectacular.
#9. The Benson Bridge is ADA accessible. It is infinitely easier to ascend with a motorized wheelchair. It would be challenging to push someone in a manual chair on the paved trail to the bridge without assistance. The entire facility is ADA friendly.
Things To Know About Multnomah Falls Lodge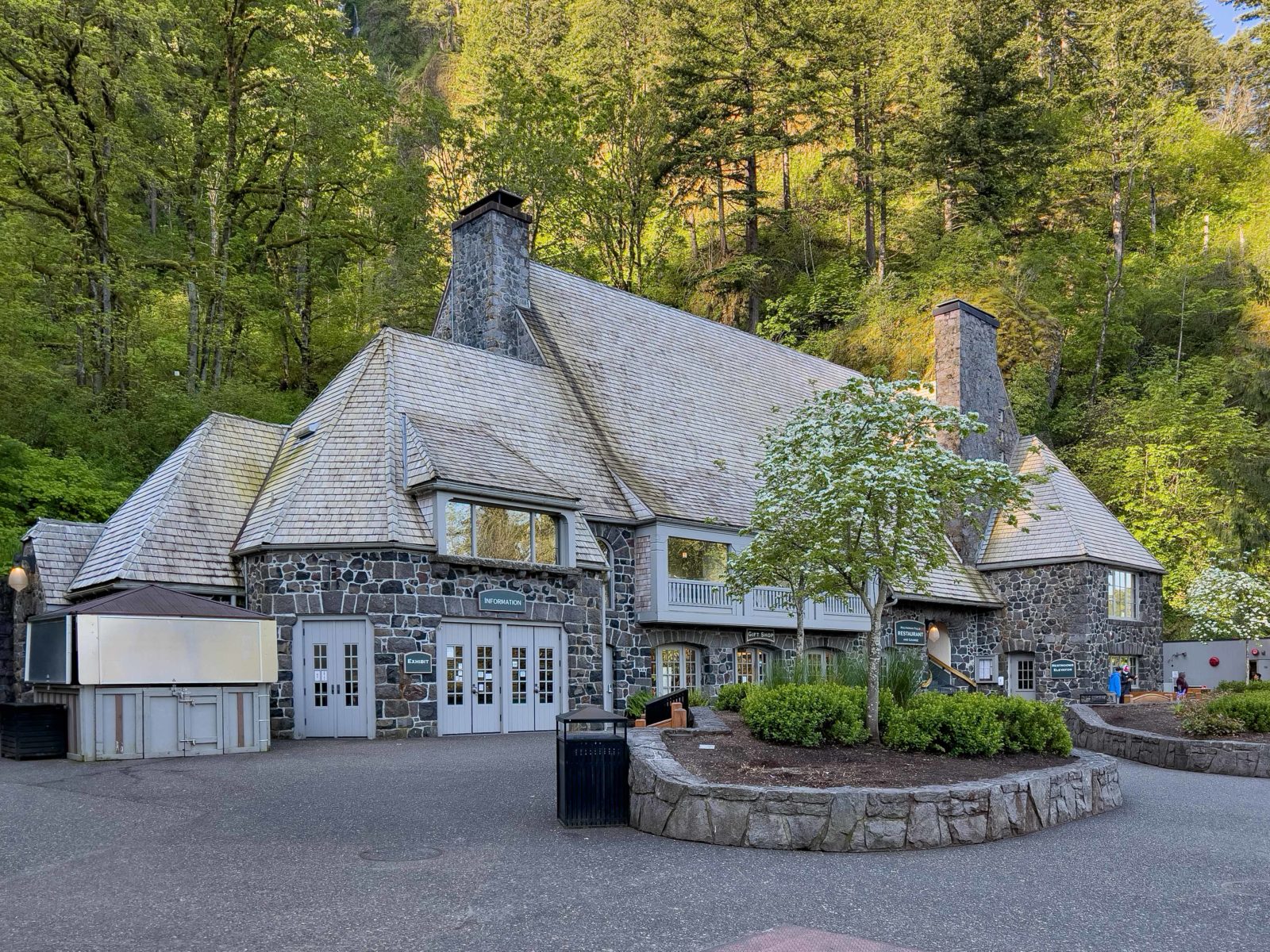 #10. The bathrooms are large, clean, and well-stocked.
#11. The Espresso Stand and Snack Bar at Multnomah Falls Lodge are open daily. The restaurant inside the Historic Lodge is open seven days a week, and reservations are encouraged but not required. To make a reservation, call 503-695-2376 or reserve online at www.opentable.com.
#12. The Multnomah Falls Lodge Gift Shop is open every day. It's jam-packed with countless collectibles and souvenirs. The aisles are narrow, so watch your elbows.
#13. Don't forget to bring your National Park Passport and get your Multnomah Falls stamp at the U.S. Forest Service Visitor Center. It is next to the Gift Shop. Other commemorative stamps and stickers are available, too, for the aspiring collector. Collecting the NPS ink stamps is an entertaining game and an excellent record of where and when you've visited. I've used mine for years and have some destinations with more than one stamp.
How To Get There
#14. Take Interstate 84 east out of Portland. In Troutdale, connect to the Historic Columbia River Highway, US Oregon 30.
If you are coming from the north or south, take Interstate 5 to the 205, then connect with Interstate 84, heading east towards The Dalles.
If driving from the east, take Interstate 84 west through Hood River and follow the signs for Multnomah Falls.
#15. The US Forest Service requires reservations to the waterfall corridor from May 24, 2022, until September 5, 2022, between 9 am and 6 pm. You won't need a reservation if you bike, hike, take a Tour Bus, or ride the Sasquatch Shuttle (Exit #28). Access the USFS Reservation system at Oregon.gov – waterfall corridor. There are excellent maps on these websites to assist in your planning.
#16. The Columbia Area Transit (CAT) from Thunder Island Brewing Company in Cascade Locks to Multnomah Falls. Visit their website and see the schedule. The 13-mile trip takes about 15 minutes. Plan to spend time in Cascade Locks. Maybe even take the paddlewheel scenic boat ride on the Columbia River and cross the Bridge of the Gods.
Final Thoughts
Plan your trip carefully through the Columbia River Gorge. It is a remarkable geological destination, and you surely don't want to miss Multnomah Falls.
Check the websites for current information, hours, and accessibility.
Feel free to contact me if you would like to talk by phone about anything I've presented here.