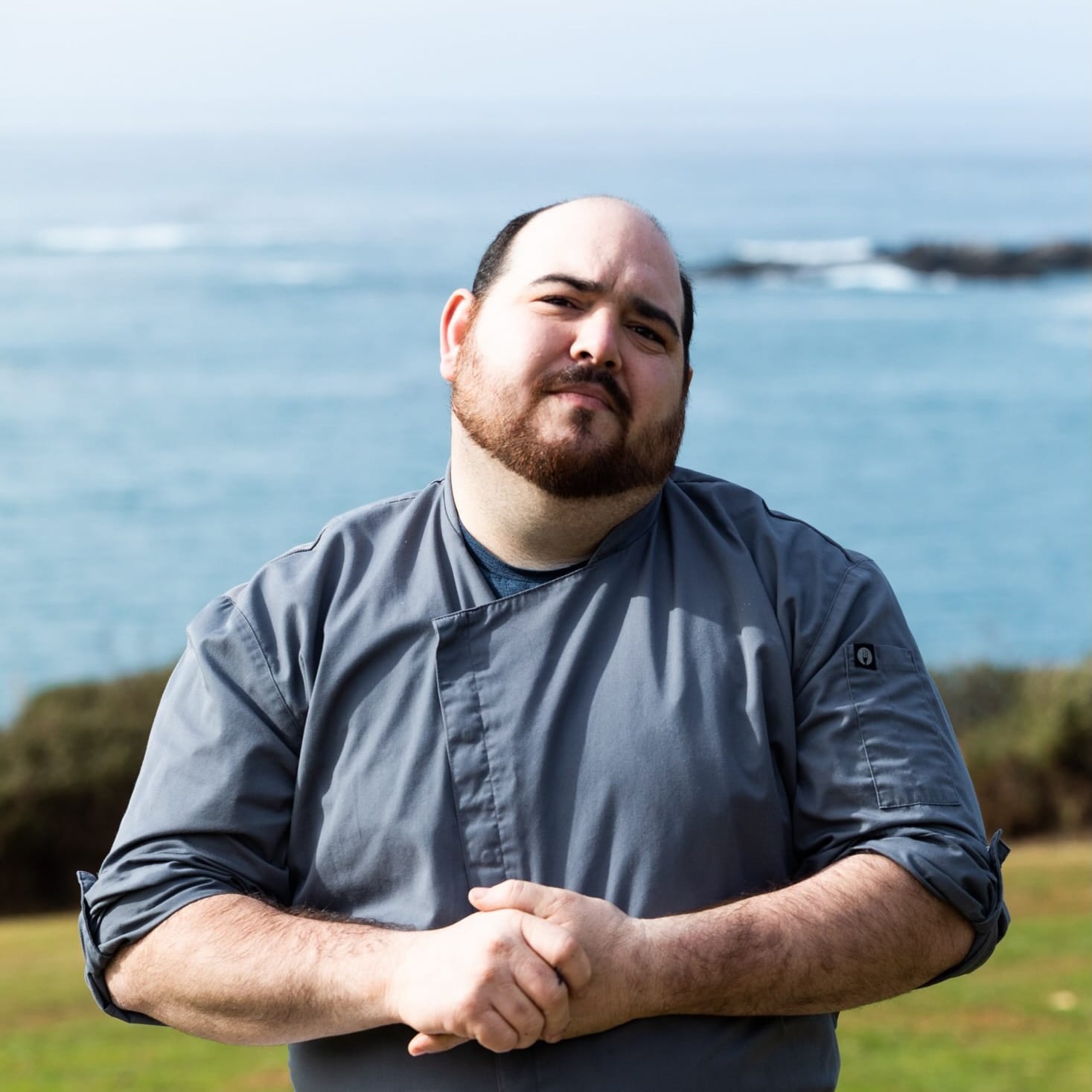 Accomplished Chef de Cuisine, Jason Azevedo, at Little River Inn, shared with me his background, goals, and aspirations for his career in the Spring of 2021.
Little River Inn
Little River Inn, originally built in 1857, is a family-owned luxury resort on the stunning Mendocino Coast in Northern California. Every room has an incredible ocean view. Family-oriented and pet-friendly, you can play golf, visit the spa, or have a wedding here. Or, you can simply enjoy a spectacular meal in the dining room with locally sourced specials prepared by Jason Azevedo.
Julie: How did you get into foodservice and cooking? What drew you to cooking?
Chef Jason: I started cooking at the tender age of 6. My paternal grandfather cooked every event (crab feeds/festivals) that helped support the church, and school, including every club involved between the two.
Background of this Accomplished Chef de Cuisine
Julie: What is your background?
Chef Jason: I had a high school job at a bagel/coffee shop, followed by working in a wholesale cash and carry warehouse, all before cooking professionally. When I was 21, I decided to take some cooking classes at American River College. Then, I moved to Chico to attend the Butte Culinary Academy, which was free vs going to California Culinary Academy in San Francisco, which at the time was about $40000. I graduated in February 2002, and it has been my life. I have worked with great chefs, and constantly strive to learn more.
Julie: What did you do before becoming a chef? What outside skills do you bring to the kitchen?
Chef Jason: I worked at FedEx, at the Sacramento Ramp as the Dangerous Goods agent. I processed the manifest and oversaw the safe transport of everything from nuclear medicine, explosives, biohazard, to dry ice, through the ramp, and four outlying area stations; loaded aircraft, hazardous spill clean-ups…all the fun stuff.
Chef de Cuisine Career at Little River Inn
Julie: How long have you been with Little River Inn?
Chef Jason: I took the position of Chef de Cuisine in February 2020.
Julie: Why did you decide to join Little River Inn?
Chef Jason: I had recently moved to Mendocino from Sacramento, and was seeing what was going to be next for me. I interviewed with Marc and Cally [Fifth Generation Innkeepers], and I've been at the helm of the kitchen since.
Julie: What is your vision for Little River Inn?
Chef Jason: Little River Inn has an amazing legacy, a view that cannot be beaten, and I want to build off that.
I would like to have multiple venues, from an outside bar, with a West Coast seafood shack vibe, as well as the inside bar, and as a throwback to the restaurants that were popular when Little River Inn [began]. I would love to have a supper club format for the main dining room.
Our garden is being planted this year, and I am making relationships with local makers and fishermen. Sacramento is known as the farm-to-fork capital. I like to know where the food is coming from, and how it is being produced, as well as supporting our local economy.
Hand-made pasta, cured meats, preserved vegetables, are just the beginning.
Target Market
Julie: Who is your target market?
Chef Jason: Do you like to eat and drink at the ocean? If you said yes, then that's my demographic.
Julie: How do you reach your target market?
Chef Jason: We have a marketing team. I keep my head in the pots.
Challenges
Julie: What is hard about your job as Chef de Cuisine?
Chef Jason: Working in kitchens is always a challenge. Staffing more than ever has been a difficulty. Working with the ever-changing supply chain, while trying to source consistent goods and pricing.
Julie: What obstacles have you encountered?
Chef Jason: Covid, the world economy, staffing.
Goals
Julie: What are you hoping to achieve personally?
Chef Jason: Personally, I hope, that every day, I'm better than the last. I want to run a sustainable kitchen, that respects my team, and pushes that team to make good food. I want to cut out the shortcuts.
Julie: What are your long-term objectives?
Chef Jason: My goal is to own/operate my own restaurant. The downside to working in this industry is everyone must leave the kitchen. The work is physical and mentally challenging, and eventually, the body breaks down. I have a goal, to transition. Until then, I work like it's my last day in the kitchen.
Julie: How has COVID-19 changed your plans?
Chef Jason: How about how many times has Covid changed plans?
We have had to change the direction of operations, service, menu eight times in the last year, from how we work, how guests are served, seated, the amount of carry-out or room service operations. It is unending.
Julie: What are you doing differently now that you will continue after the pandemic is tamed?
Chef Jason: Tamed? From where we are, we have not loosened our protocols. Being in an isolated community, with limited medical availability, we have managed to not spread Covid, so far, and are keeping our protocols in place. Seating/service have been the only changes so far. Those changes are all dictated by the CDC/State, etc.
New Techniques
Julie: Have you developed new techniques, new offerings that have received a good response?
Chef Jason: I like to think of the menu as a living being, growing/shrinking constantly. I will be returning to handmade pasta, cured meat, whole animal butchery. Most of our changes are based on the quality and availability of the product. I would say everything has been received well by our guests.
---
See more photos of this accomplished Chef de Cuisine, Jason Azevedo at the Little River Inn here.
Thank you, Jason Azevedo, for sharing your time for this interview, and for the delicious meals we enjoyed at the Little River Inn.